The EuroCham Myanmar Digital Initiative held its Official Launch Event, gathering online more than 200 representatives from the Myanmar-EU business community.
In the current difficult context for business, the event called "An Operating Manual to Seize Digital Opportunities" put an emphasis on tools offered by digital for the transformation of many economic sectors: agriculture, media & communication, recruitment, infrastructure & connectivity, entertainment, commerce, energy.
In her Opening Remarks, Rianne Roggema (CEO, Duwun, and Vice-Chair, EuroCham Myanmar) set the event's tone by raising a fundamental question: "What would have this lockdown be like without technology? Six years ago in Myanmar, we would not have had any Internet connectivity to run a business from home, to keep a connection with your friends, or for health organizations to distribute information."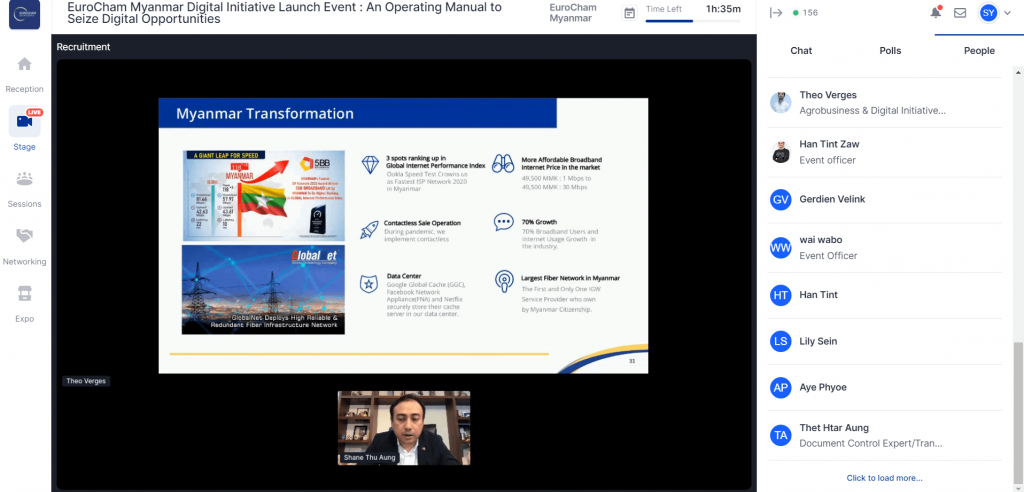 Following Rianne Roggema's Remarks, U Min Min, the Director-General of Department of Trade (Ministry of Commerce) gave an extensive overview of the state of digital in Myanmar: "while the government has created the right conditions for the telecommunication sector to grow to more than 120% mobile penetration, 85% smartphone penetration and the among the fastest mobile broadband in Asia in just 5 years, Myanmar will need to adopt digital solutions to its most pressing challenges, establishing a Digital Economy in the process."
Initiated in 2018 as an advocacy group by five digital pioneers, the EMDI has transformed into an Initiative to reunite all companies willing to digitalize their organization and activities. It aims to stimulate digital innovation and the shift toward e-commerce, to enhance the digital skills of workers with special attention to youths & women, and to promote the inclusiveness & privacy of digital services for both companies and people.
In this regard, the Initiative collaborates closely with the Myanmar government, the EU delegation, the business community, and the development sector. The EMDI Steering Committee includes U Shane Thu Aung (Co-Founder & Chairman, Global Technology Group), Harry Antarakis (CEO, MyJobs.com.mm), Erwin Sikma (CEO, Impact Terra), Kieran Rabbitt (Founder, Cube Digital) and Rianne Roggema (CEO, Duwun).