GlobalNet's Centralized Smart Retail Solution
GlobalNet's Smart Retail Solution is the integration of GlobalNet's Virtual Private Network and customer's exciting or new CCTV system in branches or shops. Head Office can monitor, control, and command all branches or shops over the network.
How can solve your problem?
Especially in the Retail Store, we can solve the following; Key Challenges
Controversy Prevention by Cash Counter Monitoring
Robbery Prevention by Alarm System
Real-time surveillance
Criminal Evidence
Day & Night fully Monitoring
Reduce Security costs and Men Power
2 ways communication between HO and Branch or shop
Reduce to 0$ for Data Collect Operation Cost
Location – Yangon, Mandalay, Naypyitaw, Bago
Solutions – Centralized Smart Retail Solution
Problem Statement
Controversy in Cash Counter
Robbery Threat
Surveillance event after one week
Delay Criminal Evidence
Blind Spots in Night for store's mini-warehouse
High-Security costs and highly Men Power usage
2 ways communication between HO and Branch Shop
High Cost for Data Collecting Operation Cost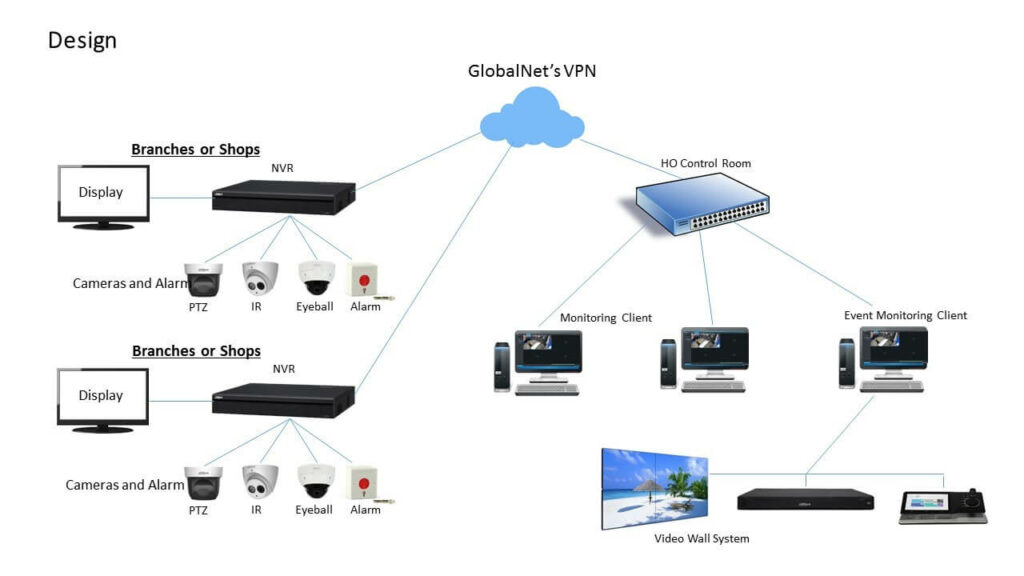 Why choose GlobalNet's Centralized Smart Retail Solution?
GlobalNet was the leader in the ICT field for over 18 years. Not only System Integration Provider but also #1 leading in Internet Service Provider. For the centralized solutions, customers don't need to find out for ISP and System Integration Provider separately. GlobalNet can provide one-stop service and end to end solutions.
Grab & Go, popularly known as G&G, is a homegrown market-leading convenience store chain serving a diverse group of customers of all age groups in both urban and suburban areas of Myanmar. Founded in 2012 by CDSG, G&G has gradually evolved from offering basic items such as beverages, snacks, and daily essentials to a one-stop-shop which offers not only the daily essentials but also ready-to-eat (RTE), medicine, and a variety of services that include ticketing, agency banking, last-mile logistics and more. Currently has 290 outlets in the country as of end-February 2020.
GlobalNet's Smart Retail Solution has solved all of the customer's Problem Statements with reliable and cost-effective. Because we giving the Virtual Private Network Services by using its own fiber infrastructure. For the CCTV System, we have resolute and customized on their exciting system. Now we are providing service to G&G's over 300 shops.